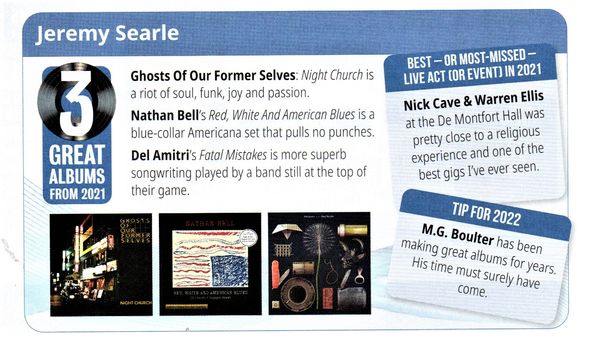 For the Third Year in a Row, Nathan Bell is one of Americana UK's Best of the Year
(2016, 2017 (Best Male Artist), 2018)
"An excellent return from a spectacular songwriter"- Paul Kerr for Maverick Magazine (reviewing both Loves Bones and Stars and the new Live album!)
"This is Bell live and unvarnished and perhaps that is how he should be experienced. All fire in the belly and world-weariness through a voice box designed by a genius on a six string cloud." - Keith Hargreaves for AmericanaUK reviewing Er Gwaetha Pawb a Phopeth (Live in Wales)
Nathan Bell Talks UK Livestream, Covid Delays, and Shopping With Townes Van Zandt
Rick Moore- American Songwriter-November 30, 2020
There are countless talented artists in the United States who haven't seen the kind of success in the U.S. that they have elsewhere but somehow manage to keep going no matter how many people are listening. Nathan Bell is one of them.
Bell, like so many, brings to mind singer/songwriters like Dylan, Prine and Springsteen, though he's often more pure-blues-based and probably a better guitarist than any of them. He's known more for his lyrics than his playing though, unapologetically saying what he thinks in his work while name-checking people like Jesus, Kerouac and Johnny Winter on his eight albums. He often plays all the instruments on his records himself, though he has also worked with people like acclaimed bluegrass bassist Missy Raines and her band the New Hip, and legendary guitarist Richard Bennett (Neil Diamond, Mark Knopfler) on an album that was never released. Bell is noted for sometimes using a DADGAD tuning and a partial capo on the bottom three strings.
Raised in Iowa and based near Chattanooga, Tennessee, Bell saw touring success back in the heyday of bars and clubs that catered to artists of his ilk. But over the years he's developed an overseas following that has helped sustain his career, and even won him some acclaim in the cinema world. He was awarded the top prize for best score for The Day After Stonewall Died, which won as the Best Short at the Cannes Short Film Festival in 2014, and is the subject of Irish filmmaker John Dower's documentary, I Don't Do This for Love, I Do This for Love.

On Friday, December 11, Bell will be doing a livestream with the Fallen Angels Club in Scotland, which promotes international Americana artists in the UK, where he has performed for years. "Obviously, I'm not going to Glasgow this year," he told American Songwriter by phone. "So I'll actually be doing the livestream from where I'll be in Iowa. It'll be about a 60-70 minute show. I'll cover about seven albums and I have a few things that have been requested of me, songs I know my audience will want to hear. In the UK I have some people who are very devoted to those songs and those albums, so I'll put those songs in the set certainly."

Bell was getting ready to release a new album, his first since last year's The Right Reverend Crow Sings New American Folk and Blues, when Covid-19 showed up. "I've got another album in the can and a single in the can that haven't come out yet," he said. "They were finished and in the process of being put to bed about the time [the coronavirus] started. Even though it would have been timely, it's gonna hold until late 2021 I would say. My December 2020 tour that was booked is rebooking for January 2022, that's when they feel confident that they'll be opening clubs."
Bell also spent a few years in Nashville, where he realized that family life was going to be more important to him than trying to succeed in the music business. "I was trying to write something I wasn't gonna write while I was writing in Nashville," he said. "And did I want to keep going in to talk to people on Music Row? Did I want to keep co-writing, which is never a super-comfortable thing for me? Did I really want to keep making demos? I realized, No, I really didn't want to, I wanted to have a family and I wanted to be home." And so he left the business for over a decade, picking up where he left off in 2007. 
Even for someone who isn't in the music industry, though, it can be hard to avoid artistic people in Nashville, and living there provided Bell with one more story about the late songwriting legend Townes Van Zandt. "We played a couple shows where we opened for Townes back in the '80s," he said, "and everyone for a while there had a Townes Van Zandt story, he was kind of mythological. They were with Townes in the desert, or they were with Townes in an Austin bar and then it rained singing frogs or something. Amazing stories. But my Townes story is that I used to run into him in that Kroger store in Sylvan Park [West Nashville]. And every time I ran into him he was looking for food he couldn't find. So I'm directly responsible for making sure that Townes took home certain kinds of frozen foods and his wife's favorite cereal."
 
There's a reliability to a new album from Nathan Bell - it will always cut deep and hard, and 'Love > Fear' (48 hours in traitorland)' delivers as expected. The man writes songs designed to make their mark and he never fails.

Folkwords UK- 2017


Nathan Bell is one of the best songwriters you've never heard of. His songs tell you something about yourself that you didn't know was in you.

-Americana Music Show Best of 2016

Best Of 2016 - AmericanaUK

There's an incredible amount of eloquence in his 'plain' poetry', along with truth that burns like a welding torch, pounds like a hammer and beats with the resilience of the human heart.

-No Depression Magazine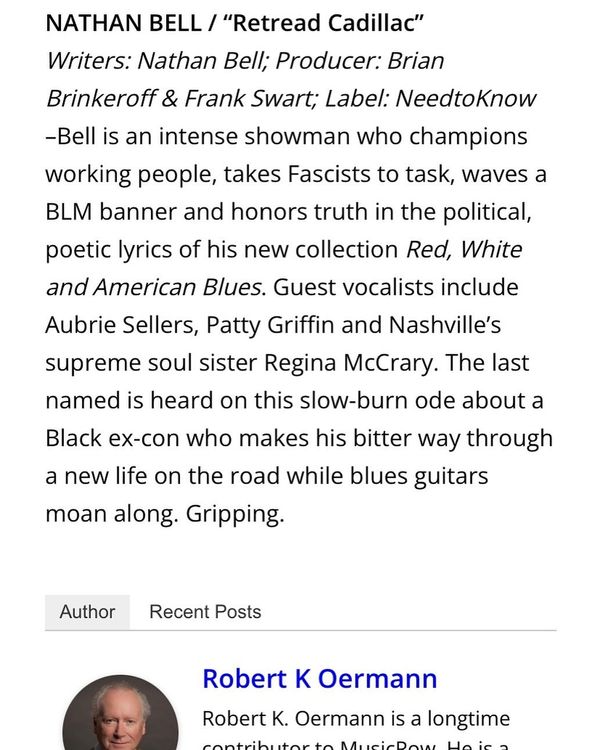 Nathan Bell: Red, White and American Blues (It Couldn't Happen Here) (Need to Know) This Chattanooga-based 61-year-old former AT&T middle exec and son of Iowa's first poet laureate was as unknown to me as his dad until this instant keeper came in the mail. A bunch of albums boiled down to a 46 song Spotify playlist that includes such convincers as the Rust Belt "Stamping Metal," the Fenway "Ballad of Bill 'Spaceman' Lee," and the gay marriage hymn "Really Truly" will hold your attention. But from an "Angola Prison" sung by a sufferer who'll leave that hell on his back to "Folding Money"'s "Jesus don't like your folding money or the way you use his name," this album is better still. Between a talky drawl less than pretty and more than articulate, an acoustic guitar worthy of an ace rhythm section, and the likes of Patty Griffin and Regina McCrary sweetening here and there, the music has so much bite that calling it Americana would be a flat-out lie. One of Griffin's features is narrated by a .44 Magnum. Lightnin' Hopkins never plays a note "without the money in his hand." A whole gruesome bunch of "poor," "sorry," "crazy," "dumb," "busy," "lazy," "angry," and "useless" "motherfuckers" are "high on meth and Jesus" and "running on the razor like it didn't have an edge." Inspirational Verse: "We are taking our lives one day at a time/With bullets and useless poetry/Soon we will be burning together in red, white, and blue/Burn, baby, burn." 
A
Robert Christgau, October 2021
---

Red, White and American Blues (it couldn't happen here)

 
Recorded in 2019 in Capitola, California at Skunkworks Studios, delayed two years by the Pandemic, yet still relevant in every way, "Red, White and American Blues (it couldn't happen here) drops on CD and Digital from Needtoknow Music on September 11th, 2021. 
In 13 original songs, featuring guest appearances by Patty Griffin, Regina McCrary, and Aubrie Sellers, the album takes the listener on a journey, from the Dead Thumb Blues of South Texas, through Swamp Music, American Roots Rock, and West Coast Spoken Jazz Poetry to the Folk stages of London.

Bell is the subject of a 2020 Documentary short film "I Don't Do This For Love (American Songwriter Nathan Bell on tour in Scotland, Wales and England)" and was a best-of selection for Americana UK in 2016, 2017, and 2018 including Best Male Artist of 2017. 
"This is the kind of artist that Nathan Bell is: The year Donald Trump was impeached as president of the United States, Nathan was writing songs that would make up Red, White and American Blues (it couldn't happen here), the subtitle a direct reference to Sinclair Lewis's 1935 novel imagining the possibility that the people of the United States of America could be mindlessly led to fascism. [2] Like Lewis's novel, this album could be the most important piece of literature of our particular moment in time. You may call that last sentence hyperbole, but I just call it honest. Red, White and American Blues is not a protest album, although it has protest songs. It's not a Black Lives Matter album, but in these songs, Black lives matter. It's an American album. It's a set of songs about a broken country and its broken people.
It's a cautionary album."
Mark Kemp, Author of "Dixie Lullaby: A Story of Music, Race and New Beginnings in a New South"
 
---

Bio:
 
An Iowa-bred, Tennessee-grown, down-to-earth American original, Nathan Bell creates spellbinding live performances with a combination of impeccably sung stories and dazzling musicianship not always found in the singer-songwriter genre.
With a keen eye and ear for the lives of working people, struggling people and forgotten people, Bell has honed his decades of commitment to blues, folk, jazz, poetry and justice into a sound and spirit all his own.
The son of famed Iowa poet Marvin Bell, Nathan grew up attuned to the power of plain, spare language to evoke places and narratives that stir both the heart and the brain. He moved to Boston in the 1980s and refined both his writing and his guitar playing while paying his dues driving a fish truck and working long hours in a hotel restaurant receiving room.
Bell returned to Iowa as part of the folk duo Bell and Shore, and garnered national attention for his vigorous, literate and often funny songwriting, as well as his virtuoso arranging and guitar playing. After recording two critically acclaimed albums, Bell moved to Nashville where he worked with producer Richard Bennett (Steve Earle, Emmylou Harris, Marty Stuart) and tried his hand at writing in the Twang Town music machine.
As marriage and children arrived, Bell put down the guitar and joined the corporate world, returning after a 15-year hiatus with the expanded perspective that comes with age and responsibility. Weathering the pain of layoffs, the unmooring of the Great Recession, and the frustration of an increasingly deranged American political landscape, Bell's new songs reflected his newfound insights into love, greed, abandonment and injustice.
His self-recorded "Family Man" quartet of CDs, as well as his enthralling live shows, earned Bell a loyal and growing following among devotees of the well-written song, expertly presented, in the U.S., Europe and the U.K.

"I Don't Do This For Love, I Do This For Love, Nathan Bell on Tour," a film by award winning director John Dower, filmed in Scotland, England, and Wales, is currently playing at independent film festivals all over the world.
---